Marte Nilsen's study focuses on artistic exchange among artists in Myanmar and Rohingya artists in the refugee camps in Bangladesh and their search for common platforms and a common ground as artists and humans. The study examines what inspires these individuals to reach out to the ostracized 'other' or perceived enemy, risking condemnation and repercussions from their own communities and society. What drives their activism? What values and ideas do they follow? Where do they hope their exchanges will lead? And what visions do they have for a peaceful Myanmar?
Doctoral research
In her doctoral research, Trude Stapnes focuses on the role of art and creative practice in Myanmar. She explores how artists challenge dominant societal narratives through artistic expressions. She also looks at how activists engage with art and creative expressions in their work. Since the coup in Myanmar in February 2021, Trude has focused on following the resistance against the military takeover by exploring the creative ways artists and activists respond to these dynamics. She is interested in the role of art and artists in this context, including what inspires artists to create art during this time and how such artistic work may inspire others.
To explore these issues, she takes a digital approach by doing fieldwork on social media and conducting digital interviews with artists and activists in Myanmar and in the diaspora. Currently, Trude is part of a team organizing an outdoor exhibition in Oslo to display work made by Myanmar artists.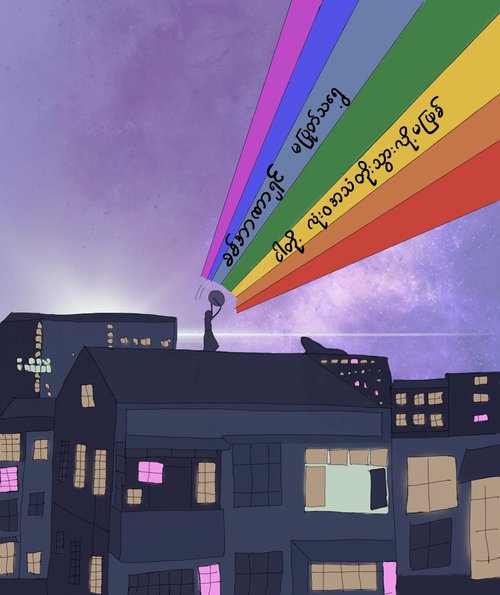 Every evening in Myanmar people bang their pots and pans to oppose the coup and to drive away evil. This illustration, based on a photograph, shows one such protestor. The text says: "Until the military junta is overthrown, we must not lower our voices".
Artwork by artist in Myanmar who wishes to remain anonymous
Back to top