About the research
Inspirational Creative Practice: The Work of Artists after War and Violent Conflict – INSPIRE (2020-2023) is a research project funded by the Research Council of Norway under the FRIPRO programme. Led by senior researcher Katarzyna Grabska, the project is hosted by the Peace Research Institute in Oslo (PRIO) and connected to the PRIO Centre on Culture and Violent Conflict (CCC). INSPIRE studies the role of artists and creative practice in and after violent conflict, exploring what inspires and motivates those engaged in creative practice and how artistic expressions inspire and move others into action for social justice.
Studying inspiration
The project studies the role of local and transnational creative practices in and after wars in Sudan and Myanmar, and includes artists and activists in exile in four European countries: France, the Netherlands, Norway and Switzerland. INSPIRE introduces inspiration as a new and important field of ethnographic study and studies how artists, art and activism intersect during and after war.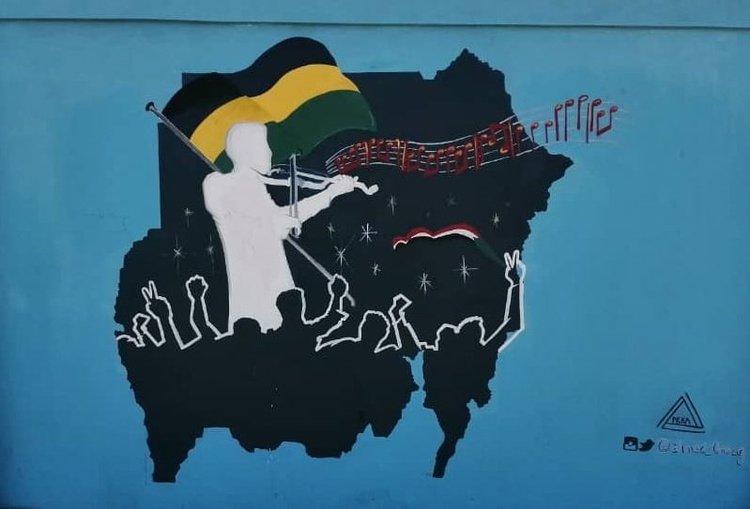 Khartoum, Sudan 2019 by unknown artist. Photo by: Kasia Grabska
Art as creative endeavour
We focus on art as the study of 'creative endeavour'. We understand art as more than the finished products, such as painting or novels. We consider the whole process: the activities that produce aesthetic responses, critiques and affirmations. This perspective moves our focus beyond 'high art' and creates a view to include all cultural processes (e.g., graffiti, rap music, cartoons, and film). Our view moves us to look beyond the intentions of the artist as the source of meaning, and opens up the idea that art's relationship to knowledge production is rooted in how it activates responses, critiques and affirmations. Creative practice and arts engage social change through imagination, play, innovation and skills. In this way, we are interested in the space art creates that enable new ways of seeing.
Methodology
INSPIRE draws on multi-sited ethnography, (creative) life history interviews with artists, collaborative arts-based workshops, qualitative interviews and focus group discussions. It is based on a strong belief in situated knowledges and the need to open up methodological approaches to (scientific) knowing towards co-creation of knowledge. Recognising the situatedness of knowledges and the embodiedness and partiality of knowledge through arts-based participative methods, we explore how artists, art and audiences (including researchers) engage with social injustice through creative practice. This website is also an integral part of our collaborative research methodology.
Back to top