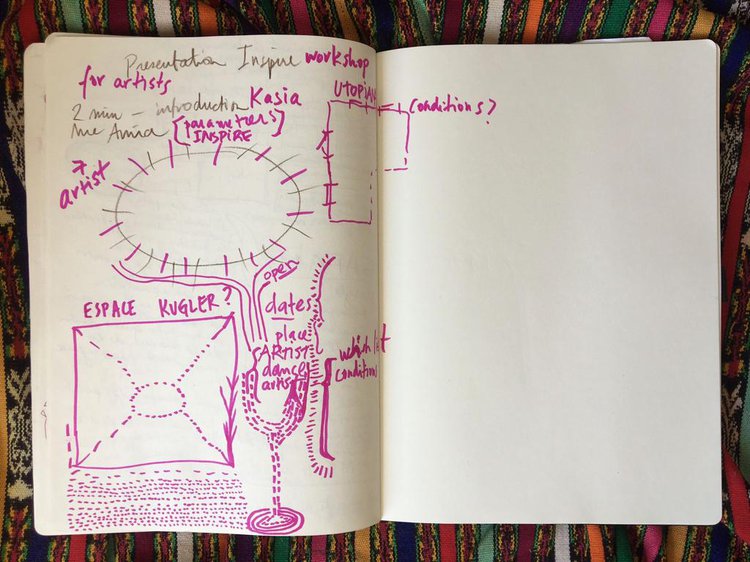 Marisa Cornejo, Planning Open Space Geneva
Collaborative open space with artists in Geneva, 17-21 September 2022
Recognising the situatedness of knowledges and the embodiedness and partiality of knowledge through artistic collaborative methods, we aim to explore how artists, art and audiences (including researchers) engage with social injustice through personal creative practice.
Kasia Grabska together with Anna Konik and Marisa Cornejo co-organize an open space with artists based in Switzerland, France and Germany who either have lived experiences of exile, displacement, violent conflict or political persecution and who work creatively on related themes in their artistic practice. Through their personal experiences and methodologies invited artists will create a hybrid, multilayered perspective on the issues related to exile, displacement and political conflict.
Ideas and format:
The open space will allow for:
Collective space of reflexion and creation that relates to the themes explored in the research project
Through collaborative work artists of multidisciplinary background will reflect and then work together on a collaborative piece:

It will be an open process that will involve experimental work
The format of the collaboration will be jointly decided with artists who are interested to participate
This collaboration is based on an idea of multilayered reflections and interactions between artists as well as artistic responses to each other's ideas/experiences/work

Principles:
- Open space for artists' differentiated vulnerability, non-hierarchical process of exchange and collaboration
- Starting point – collaboration and co-creation
The open space is hosted by the Utopiana Residency and Espace Kugler in Geneva.
Group Project (© Katarzyna Grabska)

Utopiana Dreams Workshop 2 (© Katarzyna Grabska)

Aissa Deebi, Art Studio Geneva (© Katarzyna Grabska)

Public Event Geneva (© Katarzyna Grabska)

Public Event Geneva 2 (© Katarzyna Grabska)

Utopiana Dreams Workshop (© Katarzyna Grabska)

Utopiana Chuu Wai Workshop (© Katarzyna Grabska)
Participating artists:
Marisa Cornejo,
research artist in the fields of memory, identity and migration, produces work that centres around drawing her dreams to give voice to and interrogate her body as an archive of the history of forced migration. (Website)
Anna Konik,
an artist working with video installation and art films, combines video, photography, drawing, art objects and works in-situ with a strong space context. (Website)
Chuu Wai,
a free-spirited and committed artist whose work often centers around the role of women in Burma. Her artistic practice includes painting and performance art. (Website)
Aissa Deebi,
Palestinian artist and scholar based in Geneva. Aissa Deebi is a practicing artist, curator, and writer. His practice deals with issues of art and politics, with an emphasis on cultural migration, diaspora, exile, postcolonialism, history. (Zawyeh Gallery) (VCU Arts)
Pablo Gershanik,
an artist, actor, director and theater pedagogue from Argentina and France. By animating inanimate objects in live and mediated performance, he interrogates the precarities of history, memory and the everyday to explore resilience and healing from personal and collective trauma. (Website)
Mithkal Alghazir,
a choreographer and dancer from Syria. His work and research focuses on the body as a concept of humanity, a space of awareness, of life, history, future, harmony, and peace, as well as a space for poetry, memory, and imagination. (Website)
Luis Carlos Tovar,
a visual artist who circulates between France and Colombia, producing work that explores the topics of discontinuous geographies and the role of post-memory in the present. (Website)
Stella Gaitano,
a prominent writer on the Sudanese Arabic literary scene. Her writing explores themes of departure, motherhood, loss, and grief in the context of war in South Sudan. (Website)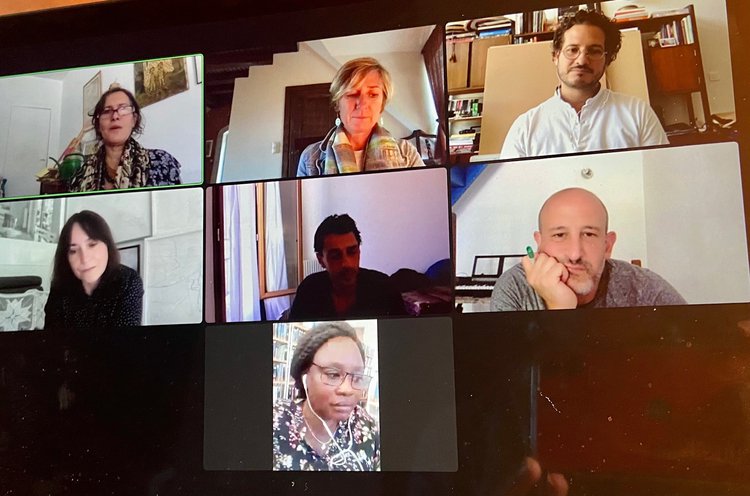 Open Space Geneva, virtual meeting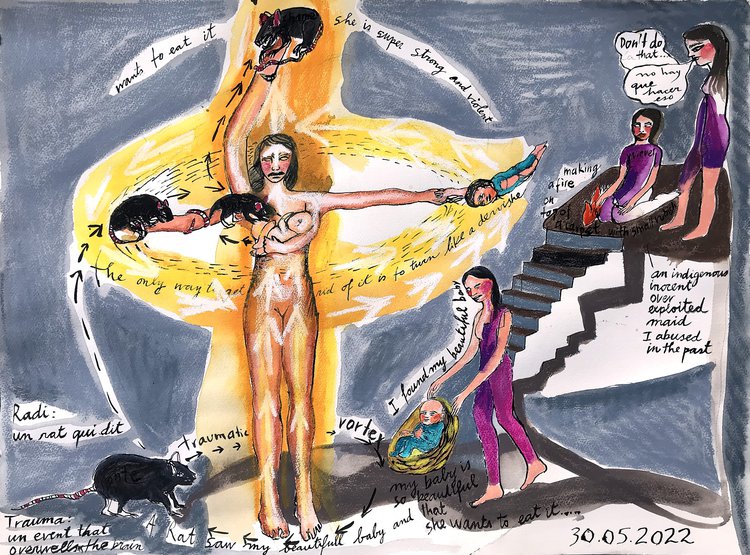 Marisa Cornejo "Traumatic vortex", mixed media on paper, 45 x 60 cm, 2022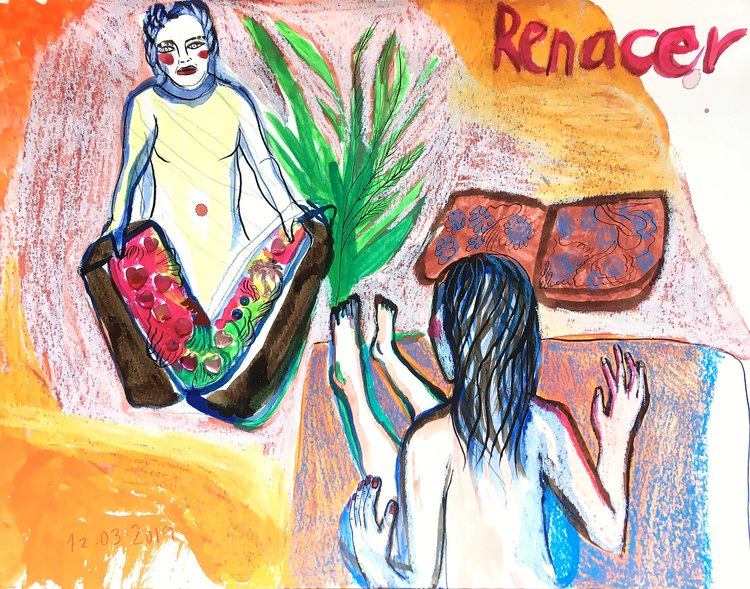 Marisa Cornejo, "Renacer", mixed media on paper, 32 x 40 cm , 2019
Back to top