The artist
Pablo Gershanik (b. 1974 in La Plata, Argentina) has taught physical theatre, clown and object theatre for more than 20 years in Mexico, France, and Argentina. Pablo has a profound humanistic approach to his art-making and contribution to society.
In 1975, Pablo's father was killed in the city of La Plata in Argentina during the country's military dictatorship. 40 years later, Pablo still harness his diversity of experience in theatre, puppetry, dance and circus acts to touch upon the topic of tragedy and recreate that tragic day as a miniature model.
"I wanted to see how the world looked in 1975 - the world of my city as well as the world in general, combining what was happening in film, TV, radio, newspapers and advertisements, until I achieved a sort of symphonic movement happening together. My idea was to reconstruct every single event that I could imagine happening at that specific moment when my life changed forever."
His first performance with this model took place at the Site of Memory Museum in Buenos Aires on the spot where some of the most brutal crimes of the military dictatorship had taken place. In speaking with the audience about their stories of survival, Pablo realised his story had developed from the personal to something larger - a shared story of healing.
What does it mean to reconstruct a tragedy? Does the model offer the possibility to step back from a traumatic story and play with it, dialogue with it and repair it?
These questions led Pablo to develop the Intimate Models methodology, which combines art therapy, psychology and theatre to reconstruct traumatic events as miniature models in order to explore and process the experience. He is the founder and director of the Specialization in Performance and Interpretation with Masks at the University of San Martín (UNSAM) in Buenos Aires, where he is currently working as a professor of the Bachelor of Performing Arts, as well as the founder and director of the Department of Dramatic Arts of the National University of the Arts (UNA) in the Bachelor of Performing Arts of the Argentine University of the Company (UADE), the International School of Theatrical Creation CABUIA, and Gershanik Studio.
Maldita canalla la soledad | Pablo acting and producing Maldita Canalla la Soledad, written and directed by Daniele Finzi Pasca. On tour in Argentina, Uruguay, Chile, Mexico and Italy. (© Pablo Gershanik)

Maldita canalla la soledad |

The Fibonacci Project (2012) is an international collaborative initiative based on the belief that artistic expression can build bridges between cultures and promote a greater sense of solidarity. (© Pablo Gershanik)

The Fibonacci Project (2012)

Maquetas íntimas (Berlin, 2019) (© Pablo Gershanik)

Metaphor as a Possibility of Resilience with Pablo Gershanik (Concordia University, 2021)

Miami New Drama MasterMiND - Pablo Gershanik (2020)

Unrehearsed Futures | Trauma and Drama: Intimate Public Remembering (2021)
Selected works
Maquetas íntimas (2019- )
Awarded and funded by the Cent-Quatre Paris and by the Institut Français of France and Argentina, Pablo has developed his project 'Maquetas íntimas' [Intimate miniature models], currently under the auspices of Association Française des Victimes du Terrorisme, Université de Toulon and Université Cote d'Azur.
The project questions resilience in art. From political events that crossed Argentine society in the 70s and from the reconstruction that art combined with psychology and human rights, the process of 'maquetisation' arises as a tool of transposition (creation of aesthetic mechanisms of mediation with a painful experience ) to work with cases of social trauma that a subject, a family, a community has suffered in recent years (war, attacks, social struggles, migration, etc.), trying to contribute, through artistic, to the capacity for elaboration and the resilience of our peoples.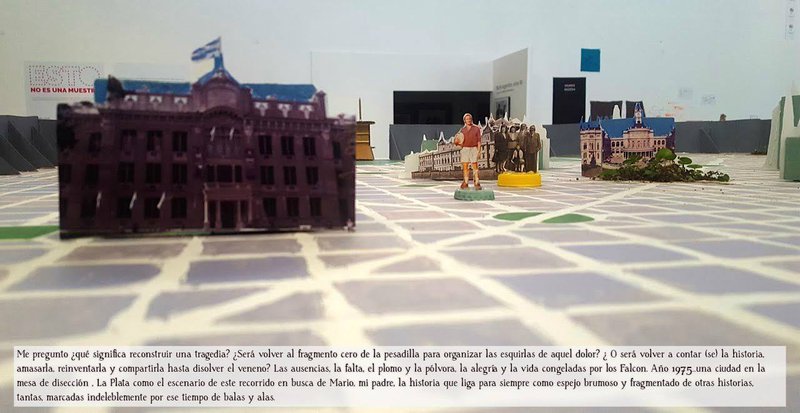 Read more about the project here (in Spanish).
All images/videos used on this page are copyrighted by the artists, unless stated otherwise.
Back to top
Back to all artists