Born in November 1997 in Khartoum, Sudan, and graduated from the University of Khartoum, Faculty of Architecture in late 2018, Reem Aljeally is an architect, designer, visual artist, and aspiring curator and cultural manager with a great passion for channeling her talents towards addressing social issues and challenging social change. In 2019, Reem enrolled in an academic painting class in the heart of Khartoum, where she met and was trained by artist and mentor Hatim Kuku.
Aside from her artistic practice, helping her fellow artists and enriching the art scene in Khartoum has been a primary goal for her. This led her to establish The Muse multi-studios in 2019, a creative enterprise that aims to promote the visual arts in her community and establish lifelong learning opportunities between participants. The enterprise also aims to support artists and the messages they try to deliver through their art by providing spaces for artists and newcomers to learn, communicate, and expand their work to reach their goals. She is also the founder and curator of Bait Alnisa, a platform dedicated to Sudanese female artists, where she supports, promotes, and documents female art in Sudan and its diaspora.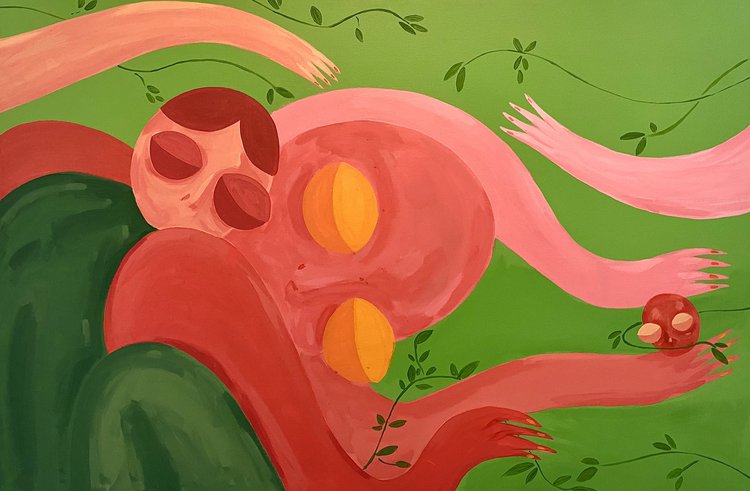 Entwined, 120x80cm acrylics on canvas, 2022
With her passion for the art still at heart, architecture has offered her new perspectives and concepts that she uses in her art. It also gave her the opportunity to think of the physical possibilities for helping artists find a suitable environment where they can freely express themselves, communicate with their audience and surrounding society, and further expand the learning possibilities in their community.
Aljeally's artistic approach has been focused on paintings that speak of women and spaces. She has participated in a number of workshops and exhibitions, including her latest at FNB art Joburg with Eclectica contemporary in South Africa, her solo exhibition "Middle Voids" at the French Institute in Khartoum, and an exhibition in Washington D.C. at the Middle East Institute titled "Art in Isolation: Creativity in the Time of Covid-19". She attended her first artist residency at Sudan Moves project with Goethe Institute in 2020.
Aljeally's work is also mostly a self-expression as she uses figures and characters to portray her own emotions and life situations. With painting as her preferred approach, she believes that art has given her the freedom and proper space to face and express what she experiences in life and what she sees around. 
I have always hated April, 120x80cm acrylics on canvas, 2022 (© Reem Aljeally)

VOUGE #9, 13x23 cm, acrylics on paper, 2022 (© Reem Aljeally)

We keep asking the same questions, 100x100cm acrylics on canvas, 2021 (© Reem Aljeally)

Your guide into girl with fat belly, 70x50cm, mixed media on canvas, 2022 (© Reem Aljeally)

Have you found your answer yet, 120x80cm acrylics on canvas, 2022 (© Reem Aljeally)
All images/videos used on this page are copyrighted by the artists, unless stated otherwise.
Back to top
Back to all artists