THE ARTIST
Ayman Alazraq makes films, photos, and mixed media artworks. He first studied film in Hebron, Palestine where he focused on film and TV. In 2006 he received a grant to study at Kunstakademiet in Oslo he started experimenting more with mixed media. "The environment at Kunstakademiet was small and good. Everyone knew everyone. I was able to develop myself as much as I wanted, so I tried everything." Ayman now lives in Oslo, Norway yet has remained strongly connected to his Palestinian roots and the Palestinian cause. In 2021 he curated an exhibition of 16 artists from Gaza. After expressing criticism towards the lack of solidarity of Norwegian artists to the Palestinian art scene and cause. Read more about it here (in Norwegian) https://kunstkritikk.no/det-som-slo-meg-var-stillheten/
His short film The Passport was screened among other places at the National Museum of Cinema in Turin (Italy) and the Cologne International VideoArt Festival (Germany). His video and photography installation You From Now On Are Not Yourself was screened in venues in Spain, Norway, Denmark, and the Gaza Strip. In 2015 Alazraq's short film Oslo Syndrome was presented in the autumn exhibition in Oslo, Dubai International Film Festival and London Palestinian film festival. In 2017, Alazraq produced the WALL-1 project in collaboration with Emanuel Sviden. The project was exhibited in various places including; Podium Gallery, Oslo 2017, Tabaklera, Spain, 2 Theaterhaus, Jena, Germany 2018 and Westfalischer Kunstvrein, Munster, Germany, 2019. In addition, the work is installed permanently at the University College of Western Norway. Into My lungs, is a documentary film that looks at working conditions in the textile industry in Bangladesh. These cotton mills supply cheap labour to many of the west's largest fast fashion corporations; with no alternative means of survivals many of the workers, who began as teenagers, have to accept subsistence wages and the threat of the debilitating chronic illness byssinosis. The film was screened at the artist house cinema, Oslo in 2022. He most recently took part in the Praksis R22 residency in collaboration with PRIO and artist Motaz Al Habbash.
SELECTED WORKS:
Wall-1 (2017)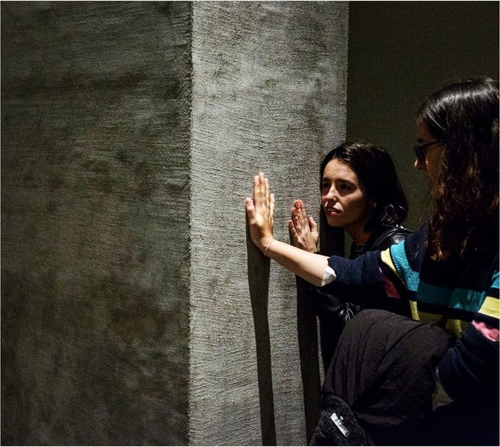 Wall-1 is an interactive wall-mounted installation of a vibrating heartbeat which was recorded from monitoring the heartbeat of a Syrian refugee living in one of the largest Syrian refugee camps in Jordan. This work is installed permanently at the University College of Western Norway.
"Many unimaginable forms have been said and written about injustices and violence, being performed on people by people. Yet any amount of speech, or other forms of representations and abstractions, even when it helps alleviate the problem, does not bring comprehension. The violent injustices are far away for some of the lucky ones among us. Still, it is palpable and even closer for others, affecting the body on the organic and systemic levels. Even when it is no longer present.
As it is experienced through the body, perhaps the comprehension resides in the body as well, outside of the symbolic representations – this is the strategy that we deployed to approach the humanitarian crisis in the world. The heartbeat was recorded from one, among hundreds of thousands, in a refugee camp in Zaatari, Jordan. Its beat rings clear among myopic floods of statistical figures, media reports, images, and more, intended to describe the situation of those who fell into the ruptures of the geopolitical machinery."
Oslo Syndrome (2015)
The film centers around the Oslo agreement as an agreement of hope. Yet, in the words of Ayman the Oslo agreement instead of giving Palestinians a set of wings it instead just built higher walls. The film in one scene depicts an escalator at Oslo Airport. The escalator is constantly revolving demonstrating the endless, cyclical feeling of the conflict.
Ayman writes:
"Too much talking about Oslo agreement the last month make me feel sick. These talks brought me 20 years back, when I had a dream that was lost, now I am dominated again by this dream. I feel like I sitting in the train station watching everybody running to catch his or her train to their destination. It is only me who is still sitting and waiting for my train to come. It feels like this train will never come. After this s I have decided to go to a psychiatric and talk to him about my problem with oslo."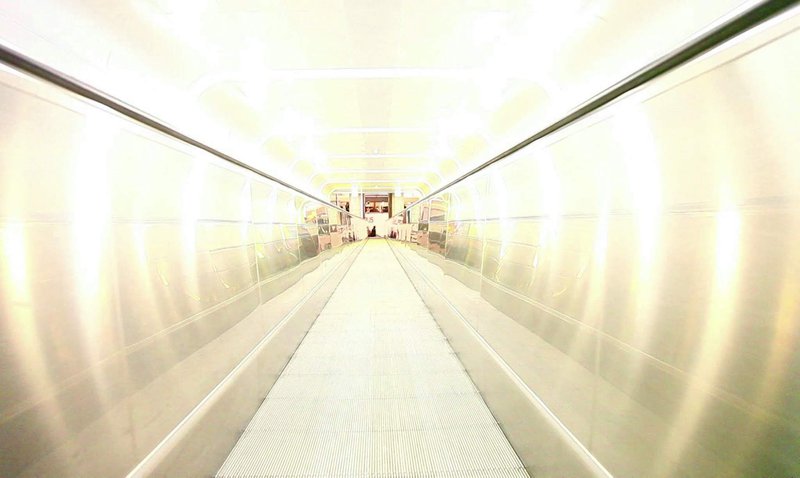 Read more:
https://www.utrop.no/nyheter/ansikt-i-fokus/265938/ - interview for Utrop (Norwegian)
https://www.aymanalazraq.com/www.aymanalazraq.com/cv.html - Website
https://kunstkritikk.no/det-som-slo-meg-var-stillheten/ - interview with Kunstkritikk (Norwegian)
Wall One (1) 2017, Ayman AlAzraq (© Ayman AlAzraq)

Wall One (1) 2017, Ayman AlAzraq (© Ayman AlAzraq)

Still from film Oslo Syndrom, 2015 (© Ayman AlAzraq)

Still from film Oslo Syndrom, 2015 (© Ayman AlAzraq)
All images/videos used on this page are copyrighted by the artists, unless stated otherwise.
Back to top
Back to all artists