The Artist
Abdullah is a 26-year-old former school teacher of the Rohingya minority from Maungdaw, Rakhine State in Myanmar. He always had passion for writing poems, photography and videography: "I still remember when I bought my first smartphone in 2012. I used to capture landscapes with paddy fields, mountains, streams, animals, bridges, and flowers." Forced to flee from the Myanmar military's brutal massacre of the Rohingya population, he arrived in Bangladesh in early September 2017 and started working with the Rollywood Rohingya film team making videos re-enacting Rohingya life. Abdullah often supplements his visual expressions with poems: "When I feel alone and remember the memories of Arakan (Rakhine), I try to express my feelings with the language of poetry."—he says.
Abdullah cherishes his journey as a freelance photographer, videographer and poet documenting the life of refugees in the camp.: "Every person has a personal experience worth documenting and I feel that it is my duty to bring those stories to the outside world through my creativity and my arts".—he says. Since his arrival in Bangladesh, he has produced several photo-essays and poetry books on different topics.
In 2019, his photographs were published by the Asia Times and in August 2020 he received third prize in the photo series category from the Rohingya Photo Competition. In 2021, he contributed with his poems in a poetry book known as ''Today, Tomorrow, Forever'' published by ''Westword'' in Australia. His photographs have been exhibited at the Human Rights Research and Education Centre in Ottawa and the Oxford Human Rights Festival. Lastly, he has been awarded for his photography and poetry on ''International Art Contest on Statelessness'' organized by Minority Rights Group International, OHCHR, UN & UNHCR in Geneva.
Selected Works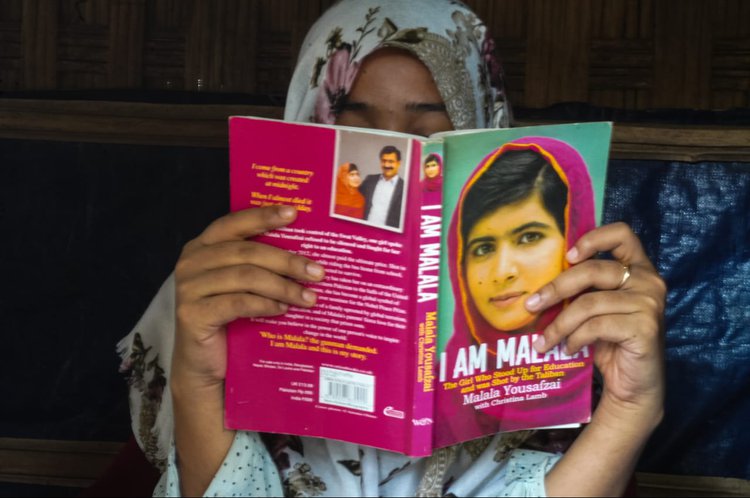 A Rohingya girl is reading the book I am Malala
''A Rohingya girl is reading the book ''I am Malala"
I'm not Malala, but I get inspiration from her.
I'm the brave girl who wore strength and bravery when deprived from my own country.
I want to get rid of the obstacles in my life so that I can stand tall.
Someone said, "One pen can change the world"
I also need a pen to change my surroundings, but not without freedom and recognition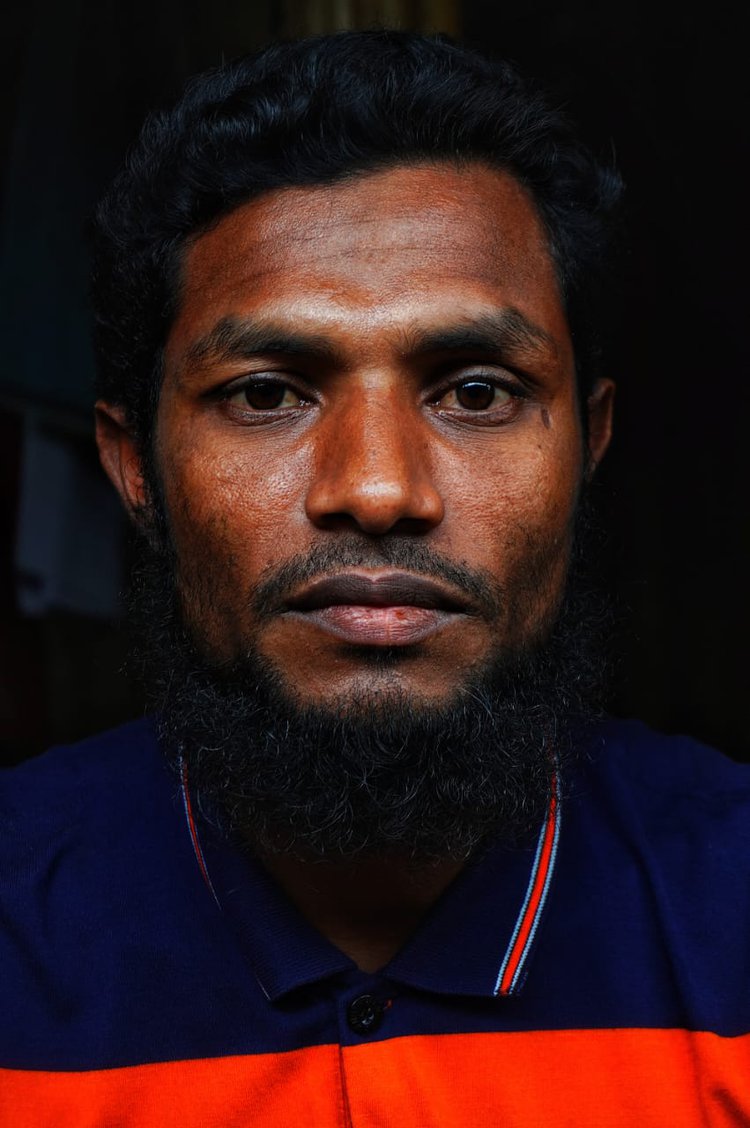 Face of Genocide survivor
"Face of Genocide survivor"
Yes, I can see.
Can see the helplessness
After being expelled from my motherland.
Yes, I can hear.
Can hear the whispering words about refugees.
Yes, I can speak.
Can speak out about my unrecognition.
Leading a meaningless life.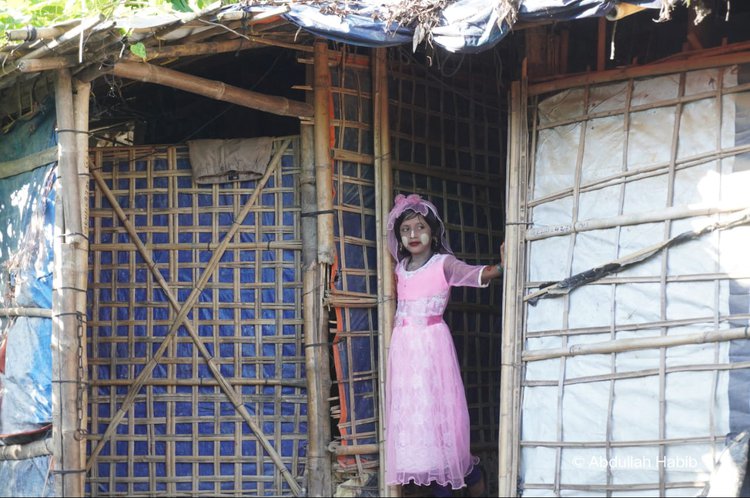 A Queen in the small shelter
"A Queen in the small shelter''
Mom says, "I'm a princess when I dress up nicely.
I know what it's like to be a princess.
A princess has no country of her own;
her palace is in a small shelter with a broken roof.
A princess can't get an education but can only memorise various prohibitions.
A princess can't run in the open air, but can move through narrow alleys of countless rows of shelters.
There is no guard to protect the princess, but many to snatch away her basic rights.
I know what it's like to be a princess.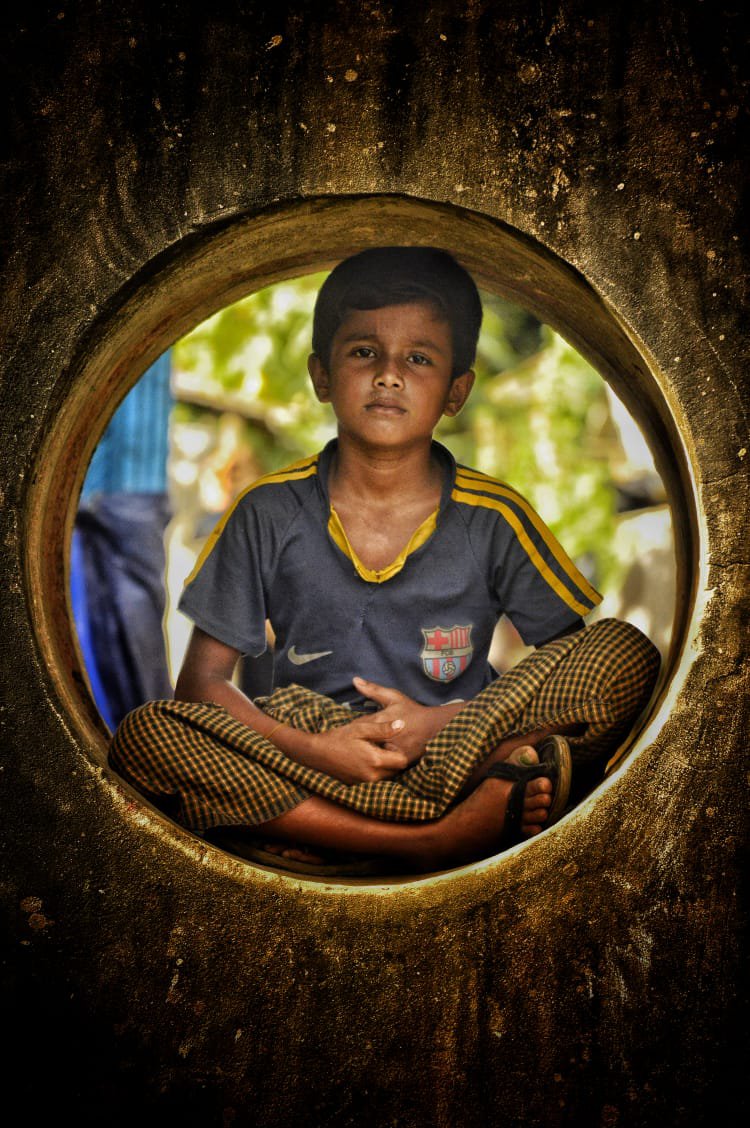 A Rohingya boy is sitting inside the hole
''A Rohingya boy is sitting inside the hole''
Endless blue sky in front of my eyes,
My heart wants to fly.
Wants to find the light in the pages of a new book,
Wants to run in the joy of freedom.
My dreams got lost in the maze,
My wings are bound to the bars of the cage.
Nothing is meant for me,
But a homeless, landless, and rootless vine.
"Rohingya children deserve a better life and a bright future" (© Abdullah)

"With every newly rising sun, Rohingya believe there will be a new day for them where justice will be served" (© Abdullah)

'The shining angel in the dark world' "Many Rohingya girls and women continue the tradition of applying 'Thanakah' which is a common cosmetic form in Myanmar." (© Abdullah)

"A Rohingya old man wears a towel in the winter as he doesn't have warm clothes to wear." (© Abdullah)

"A Rohingya boy with the national flag of Myanmar" Don't call me stateless, My forefathers belonged to Myanmar, My grandparents belonged to Myanmar, My parents were born in Myanmar, and I was born in Myanmar too. I have a country, She is called Myanmar. (© Abdullah)

"A message to the world from a strong Rohingya woman." (© Abdullah)

"These eyes didn't see freedom." (© Abdullah)

Rohingya father teaching his daughter inside their shelter. He says "I want my daughter to be a doctor and serve the community but will there be the opportunity?" (© Abdullah)

"A Rohingya boy walking in the foggy morning" (© Abdullah)

"A group of Rohingya women and girls line up to receive rations. Some times people have to stay in line for hours to get basic necessities." (© Abdullah)

''I have lived my life, now I just dream to die in my homeland'', says a 80 year old Rohingya woman. (© Abdullah)

"A hard working Rohingya young girl carrying bamboo to repair her shelter." (© Abdullah)

"The face of a genocide survivor with tears of heartbreak, hiding a lot of pain inside." (© Abdullah)
All images/videos used on this page are copyrighted by the artists, unless stated otherwise.
Back to top
Back to all artists