Artist Spotlight: Abdullah
Abdullah is a Rohingya artist who uses photography, poetry, and film to collect the stories of Rohingya refugees in Bangladesh. He is driven by a passion to shed light on the lives and struggles of the Rohingya community. These days, PRIO is launching a series of short documentaries about refugee education that Abdullah and other Rohingya filmmakers have created in cooperation with PRIO Senior Research Marte Nilsen. In a recent interview with her, Abdullah shares insights into his creative process, the inspiration behind his work, and the importance of self-representation for the Rohingya people.
Storytelling
When the Rohingya were forced to flee their homes in August 2017, as the military in Myanmar set fire to their villages and started the brutal killings, Abdullah found that there was a missing dimension in the reporting from the tragedy.
"International media came and collected our stories and presented them to the world. But when I saw one of the documentaries, I observed that something was lacking. The filmmakers just report what they hear. But they cannot feel. They cannot feel what we can feel. So, I thought that, if we could make the films ourselves, we would have a more powerful tool. I am a victim myself. I would tell the story in a different way."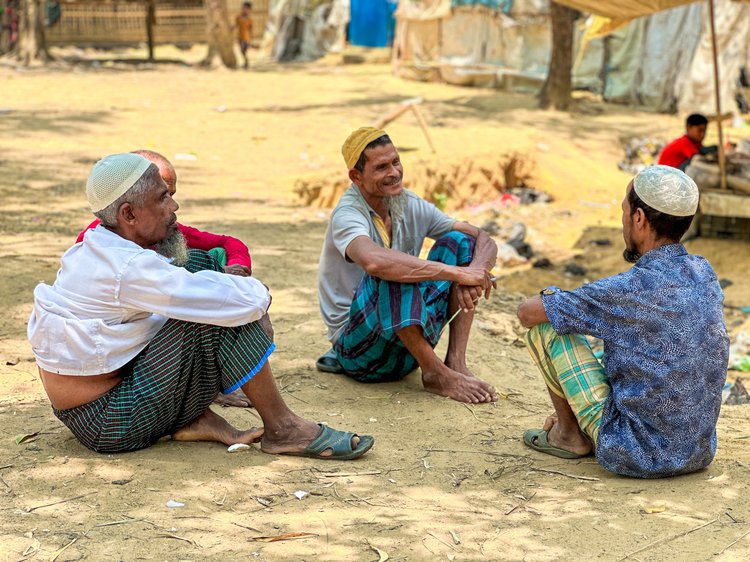 A Group of Rohingya Elder Gossiping About Life in Arakan
"The world only knows what the media covers, and the world knows what the government or the policy makers or the NGOs want to communicate […] You have no idea about what is going on inside our minds, until we tell you. We want to share this with you. So, if we don't try to share our stories ourselves and connect with the world audience, the world will not know."
Earlier this year, Abdullah and two other Rohingya artists were invited to the Dhaka Literature Festival to present their work and he explains how their stories had an impact on the audience.
"The people that were listening, they were really touched. They had not seen things from our perspectives like that."
"Their story is also my story"
Abdullah's artistic process involves engaging in conversations with the individuals he photographs, seeking to understand their conditions, experiences, and identities.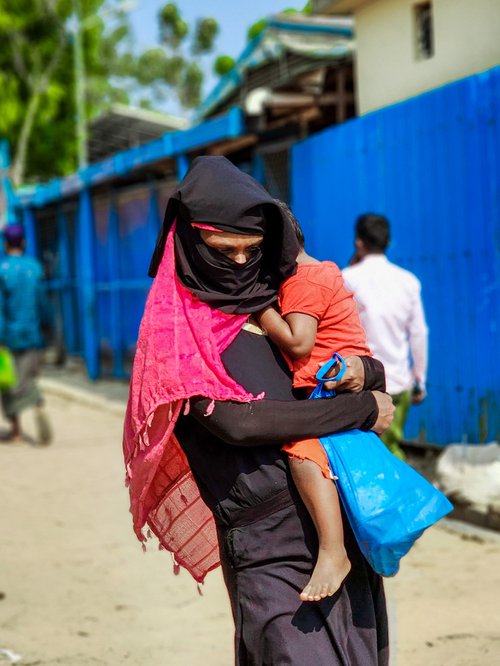 "Whenever I see something new, and something that is important to be seen and shared, I take a picture, and I talk to the people there about the scene. What is your story? What happened to you? So, we start a conversation. Every photo I take has a story to it. And I tell the story of that photo, either with a text or a poem attached to it."
His themes span across the many lived experiences he encounters, but he often focuses on the lack of opportunities and chances for the Rohingya children who should be in school, but instead find themselves confined to makeshift informal learning centres. Abdullah is reminded of his own experiences in Myanmar where he was restricted from higher education.
"I feel, myself, that I am one of them. This is also my condition. I went through similar things in Myanmar. We were not given the opportunity to get higher education, and we were not allowed to go to university. And we are still in this situation. If we had the chance to get a degree, we would have the chance to change our lives. I see myself in them. That feeling comes in me and I try to express it through poems."
In the wake of a devastating fire that ravaged the refugee camp, Abdullah immediately produced a documentary that showcased the aftermath focusing on the emotional toll of such repeated crises on the Rohingya people. The loss of shelters and belongings and the subsequent requirement to start from scratch, again, acts as a form of re-traumatization, reminding the Rohingya of what they faced when fleeing to Bangladesh five years ago. Abdullah's swift response through the documentary becomes a powerful tool to bring attention to their plight.
"They are already in trauma. This is not the first time they have experienced these kinds of things. Their lives were already really hard. And these fires retraumatize them."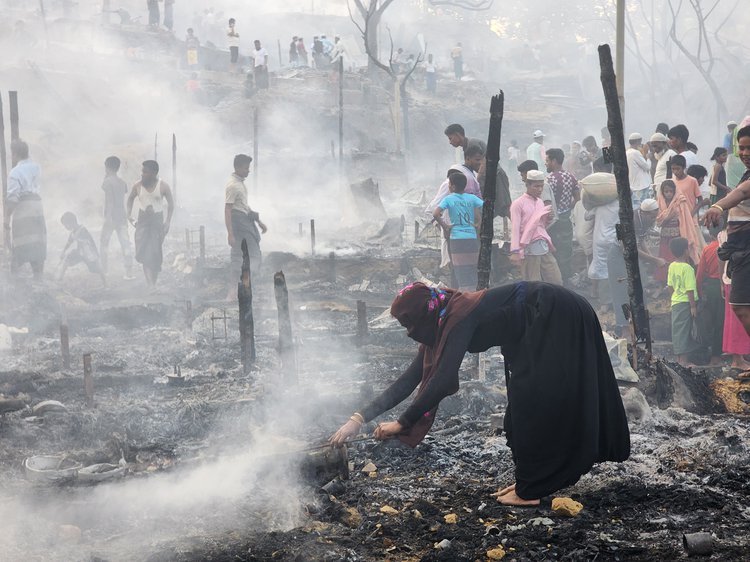 Aftermath of the Fire
The artistic journey
Reflecting on his artistic journey, Abdullah recalls how he began experimenting with creative mediums while still in Myanmar. Despite, as he describes, "little knowledge about technology and possibilities", he and his community started using smartphones to capture photos and videos, while also learning how to write poetry with the help of online resources. When he had to flee to Bangladesh, he started documenting stories of the people he met and their journeys. He began with writing and poetry, creating with his community the Rohingya Art Garden and online space where they published a magazine together with other Rohingya artists. He then gradually began sharing photos on social media and delved more actively into filmmaking.
Abdullah's first film depicted the diverse journeys of Rohingya refugees fleeing violence from Myanmar to Bangladesh. Many had injuries. Some still carried the bullets in their wounds. Some lost their lives during the many days they had to walk. As funerals were not possible, they were left in the jungle. Such stories made an impact on Abdullah and he became committed to creating films that convey the multitude of untold stories within his community. "There are so many stories to be told."
Within the Rohingya community, Abdullah notes that there is a lack of a formalized artistic platform. However, he highlights the presence of online networks that have emerged since their arrival in Bangladesh. Through these networks, Rohingya artists connect, communicate, and encourage one another, fostering a sense of solidarity and support. Abdullah believes that if provided with a dedicated space to showcase their art, the Rohingya community could flourish even further.