15 August – 15 October, Rotterdam, the Netherlands
About the residency
The 2022 Russian invasion of Ukraine has once again brought the reality of war into sharpened focus, against a backdrop of ongoing violent conflicts around the world that continue to devastate the lives of individuals and communities. This reality underlines the importance of increased knowledge on, and healing from, the human impacts of war. Creative practice is central to both, as it engages the imagination, poetics, innovation, critical thinking and powers of expression - potential defences and resources for addressing the trauma of war and oppression, while building the foundations for new societal futures that are more inclusive and sustainable. During and after war and oppression, creative practice can contribute to preserving memory, history, identity; offering visions of a more equal and just society; making dehumanizing everyday realities visible; creating space for self-expression; and demanding recognition for unique identities. It can be a form of resistance as well as a tool for coping for the artist while offering others a space for healing.
This residency will investigate how creative practice can enable new ways of seeing, relating to and understanding individual and collective experiences of violent conflict and oppression. Through creating together, the group of residents aims to counter the many ways that realities of war, oppression and exile are commonly silenced or distorted. The residents will create space for dialogue around their creative work in interaction with local audiences, who often have not experienced war. A central theme will be healing processes after war, oppression and exile. The residents will research how individual and collective healing is interconnected - as trauma reveals itself in individuals but is often collective in its cause, manifestation and consequence.
Residency approach
The two-months residency facilitates individual and collective work by four to six international artists, creatives and academics, in collaboration with locally-based individuals. The group builds on a combination of academic knowledge, lived experience and practice-based knowing in order to broaden the dialogue and reach wider audiences. Interdisciplinary collaboration also allows residents to more critically relate to established ways of thinking and working within their respective fields. Formats and explorations develop from inside the group and will go beyond the expectations of each individual. Connections that form are built on trust in the process and on mutual support. This process to learn from an experimenting, emergent approach will be recorded in a systematic way. Residents and those they collaborate with will also be offered a number of creative and thematic workshops of relevance to their work, and jointly visit relevant institutions, performances and exhibitions.
Besides the emergent collaborative creative work between the residents, another central part of the residency approach is its interaction with different types of audiences. The residents all have experience working with local communities, and engage in participatory and interactive creative practice that evolves in collaboration with audiences – often in public space through artistic intervention in relevant (urban) sites. During the residency 2-3 such interventions will be done, in collaboration with local artists. One intervention would for example be a mural by Diala Brisly, and another a public performance by Daria Pugachova. Locations and audiences will be carefully selected in collaboration with locally-based artists, and can include children/youth; individuals with refugee backgrounds; residents in a particular neighbourhood. A weekly Open House will be organized at the Goethe-Institut Rotterdam, where the residents are hosted. To also reach relevant policy makers we will collaborate with i.a. DutchCulture and KPSRL to host public talks. We are exploring the option of hosting a final exhibition or festival at a central location.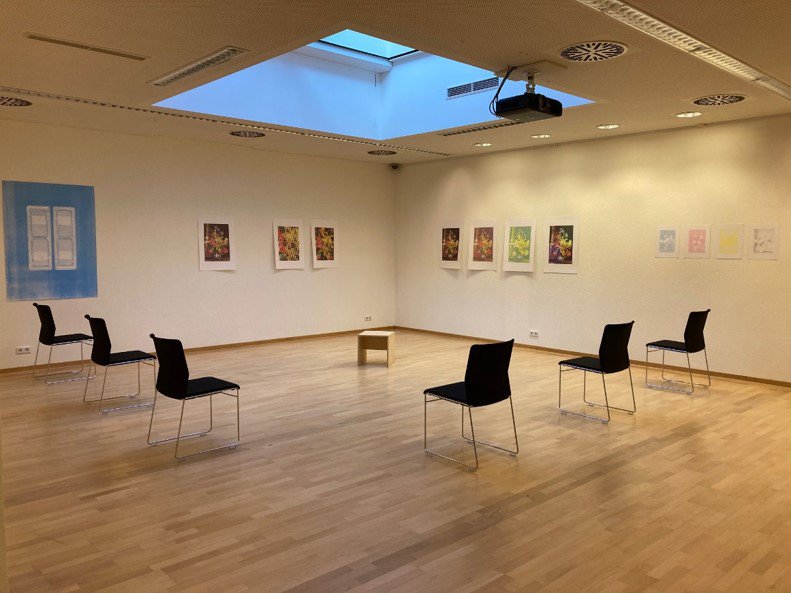 The Residents
The 2023 Rotterdam residency has been created by a group who met at a previous residency in Oslo in 2022. The 2023 residency is a next step in this collaboration, inspired by a wish within the group to move from research on the topic to creating together. Diala Brisly, Cindy Horst, and Daria Pugachova will be collaborating creatively during the two-month period, together with 1-3 additional artists. Others hope to participate for shorter periods of time.
In the summer of 2022, thirteen artists/creatives came together in Oslo for the PRAKSIS/PRIO residency Repression – Expression // Violence – Creative Resistance. The residents, shortlisted from a large pool of applicants, encompassed both visual artists and performing artists. The group's life experience stems from different continents, mostly involving migration and first-hand, second-hand or vicarious (traumatic) experience of war, oppression and/or exile. It includes academics and artists, who find it valuable to work together as they explore the theme with different tools (for example, cognitive versus practice-based learning). The residents make use of different modes of expression, which comes with particular opportunities and challenges. For academics working on war and oppression, it is valuable to collaborate with artists to explore the embodied nature of these lived experiences. For artists, working with academics often triggers and enables deeper reflection on themes and approaches. More information about the residents can be found here.
© "Room of Sadness", at Hovedøya, Oslo. © Daria Pugachova. Photo: Nastassja Nefjodov

© "Shelter for Freedom" at Salzburg Summer Academy, Austria, 2022. © Daria Pugachova. Photo: Anna Aicher
Back to top