The Artist
Shwan Dler Qaradaki (born 1977 in Suleimania, Iraqi Kurdistan) is a Norwegian visual artist whose practice encompass drawing, painting, photography, installation, and video. He came to Norway as a refugee in 1999.
Qaradaki is a graduate of the Suleimani Institute of Fine Arts (Kurdistan, Iraq), NISS (Oslo) and the Norwegian Academy of Fine Arts (Oslo). Since 2021 he has pursued his doctoral studies in print and drawing at the Oslo National Academy of The Arts, with expectations to earn a PhD degree in 2024. Qaradaki's art problematizes identities in a multiethnic and multicultural world. Based on his Kurdish background and twenty years of residence in Norway, he examines the field of tension between opportunities, traditions, breaches, and prejudices as recurring themes.
His most recent group exhibitions include: Norwegian Sculpture Triennial, Oslo; I Call it Art, The National Museum, Oslo; Do As Old Masters Do, Terminal B gallery, Kirkenes (all 2021); The Autumn Exhibition, Kunstnernes Hus, Oslo; And for a long time we went without light, Kristiansand Kunsthall; Inquiries of the Social Commons, Spriten Kunsthall, Skien (all 2020), and Human Condition, Tenthaus, Oslo (2015).
Since 2010 he has had a number of solo exhibitions, including individual film and video screenings, predominantly in Norway. His films and videos have been screened worldwide at international festivals such as: Human Right Watch, New York; Rencontres Internationales, Paris; TIFF – International Film Festival, to mention but a few.
He is a recipient of Norwegian and international art awards, including: The Newcomer of the Year prize by the Norwegian Arts Council (2015); Experimental Short Film Award at the Hollywood International Moving Pictures Film Festival (2017); the Best Documentary Film award for "To My Children" at the 30th Minimal Short Film Festival in Trondheim (2018); and the 2020 Kistefos Art Award for "The Golden Wish".
See Shwan Qaradaki's detailed bio on his website.
Selected Works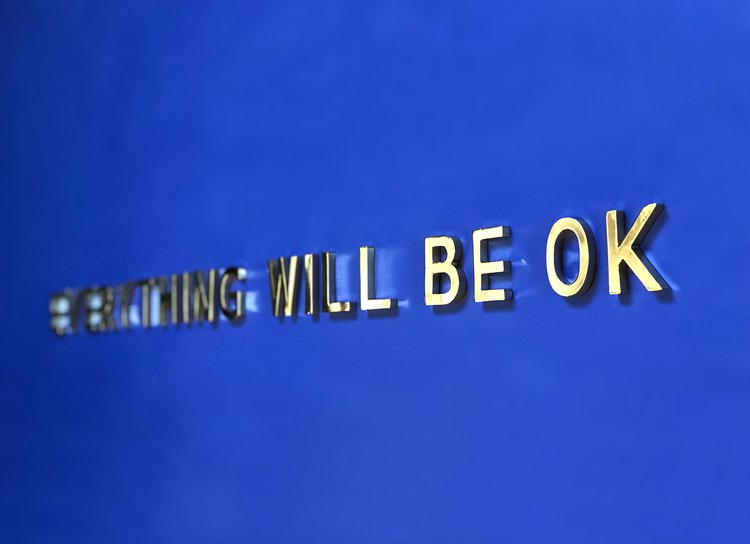 Qaradaki, The Golden Wish, 2020, 12-carat gold, 5 x 100 cm © Ulla Schildt
THE GOLDEN WISH (2020) - The Human Condition-Human Dignity
The starting point for the project The Golden Wish were the so-called jewelry laws adopted in several European countries in the midst of the most recent 'migration crisis', ongoing since round 2015. These laws allow certain EU authorities to confiscate valuables from asylum seekers upon arrival in their country of choice, in order to finance expenses in connection with the asylum seekers stay until the proper asylum application is formally processed. The law gained public attention in Norway after Denmark had introduced it in 2016. In the summer of 2018, Qaradaki traveled back to his hometown of Suleymaniah, Iraqi Kurdistan, where there are two large refugee camps. The largest has 25,000 residents, most of whom are Syrians and Yazidis. Living conditions in the camps are miserable. Here he found that many refugees sold private possessions and valuables to finance their own escape. Qaradaki bought gold jewelry such as rings, necklaces, and earrings from private and local dealers, such as jewelers in Arbat and Suleimania, where most of the refugees in the country live. All this gold, a total of 320 grams of twelve carat gold, was then melted down into a plate, which was later cut and welded into letters that form the phrase "EVERYTHING WILL BE OK".
The process can be followed in video form:
The golden Wish (video)
Duration: 05'55 min. (seamless loop)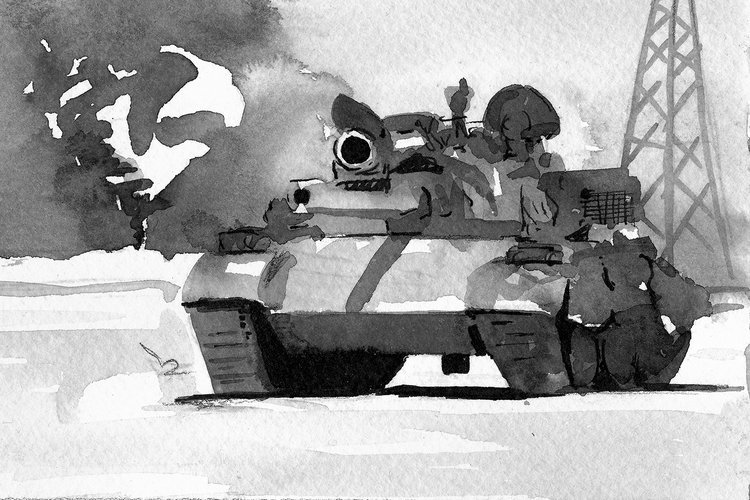 Qaradaki, To My Children, ink on paper
To My Children (2015) - Short film (color, sound), 21 min.
Both brutal and beautifully poetic, this award-winning short film tells a story about escaping war and starting a new life in Norway. Kurdish-Iraqi artist Shwan Dler Qaradaki arrived in Norway as a refugee in 1999 after two years traveling through the Middle East and Europe. As a first-hand witness to the atrocities of war, the artist portrays human hardship and experience in a tangible, striking way. Through combining watercolor images and voice-over narrative Qaradaki tells some of his personal stories. He invites us to see beyond the incomprehensible mass of people and events, to the lived reality of individuals. To my Children is a strong letter in film format to children and future grandchildren about the fear for the future, but also about hope and desire.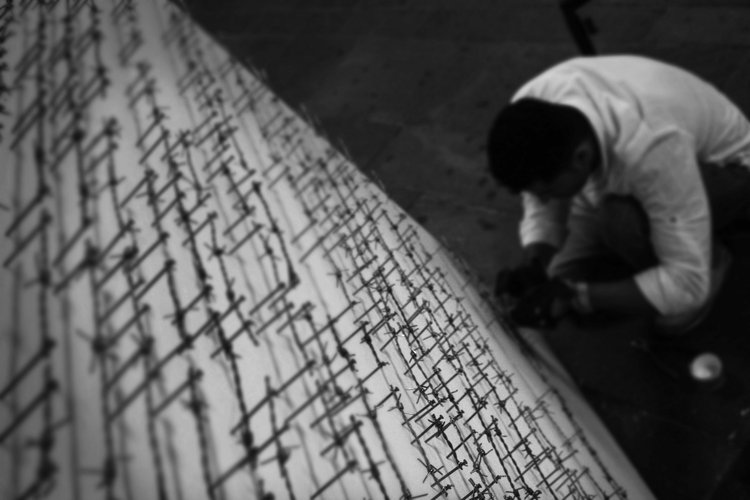 Qaradaki, Be Patient, 2009 & 2013, Barbed wire on the wall and on MDF board
BE PATIENT (2009 & 2013)
The inspiration behind this installation is a rejection letter from The Norwegian Directorate of Immigration on Shwan Dler Qaradaki´s application for residence permit after living 10 years-legally in Norway. He has "translated" the letter and used barbed wire in a way that it can be "read" like a page in an official letter. He cut the barbed wire with pliers into different sizes in accordance with the words from the actual letter. Afterwards he put together the lines by using nails and the barbed wire. He placed the barbed wire upon the nails and matched the spacing between the "words" to the actual letter.
In addition, a sound file is played along the installation. The sound file is a recording from the answering machine at The Norwegian Directorate of Immigration saying the following in Norwegian: Du er fortsatt i kø, men vi vil hjelpe deg så snart vi kan (You are still in line, please hold, we will help you as soon as possible.) View the sound file on Shwan Qaradaki's website.
All images/videos used on this page are copyrighted by the artists, unless stated otherwise.
Back to top
Back to all artists