Galal Yousif is a 37 year old Sudanese visual artist, painter and muralist based in Khartoum, Sudan. He grew up in the small town of Ruffa in Aljazeera State, along the Blue Nile and had an interest in Art from a young age. He studied art at Sudan University For Science & Technology with a speciality in sculpture.
He uses a variety of mediums and styles in his art, including watercolour, acrylic, ink, and mixed media pieces with wood and metal. His canvases range from his notepad to a 30-feet wall under a bridge by the Nile River.
Galal is sometimes described as an activist due to the art he created during the 2018-2019 Revolution in Sudan, but he doesn't see himself that way. Galal is an artist who believes that artists reflect the society they live in, and that's why art was so visible during the Revolution. As an artist, he used his art to portray the stories of people, capturing their pain, hope, and determination for a better life in the country. Through ink on paper and murals on the streets of Khartoum, Galal documented and depicted the suffering and power of the Sudanese people during this time.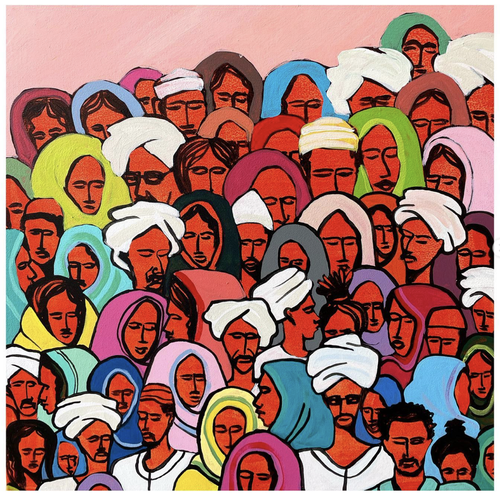 The Revolution, brought Sudanese art into the global spotlight even though art has always been a part of Sudanese culture and life. There was a repression of art and culture under the previous regime, and the freedom of expression claimed by the people during the Revolution unleashed a wave of restiance and protest art across the country.
All we want is life, 2023 (© Galal Yousif)

Face Blues Collection, Watercolor on paper, 2023 (© Galal Yousif)

Lines, 2023 (© Galal Yousif)

Togetherness collection, Acrylic on canvas 2023, 66cm/66cm (© Galal Yousif)

Mixed media on wood 2022, 23cmx23cm, 23cmx23cm, 24.5x22.5 cm, 23cmx15 cm, 24cmx12cm (© Galal Yousif)
All images/videos used on this page are copyrighted by the artists, unless stated otherwise.
Back to top
Back to all artists