'Sponsor A Sudanese Artist' - Global Art Campaign to Support Sudanese Artists
---
"On the morning of April 15th, 2023, war broke out in Sudan between the Sudanese Armed Forces of the General Abdel Fattah Abdelrahman Buhran, and the paramilitary group of the Rapid Secure Forces, under the command of Mohammed Hamdan Dagalo, called "Hemetti".
Led by two men, blinded by power, this war has already in its first weeks killed hundreds of civilians, and displaced thousands upon thousands, leading to both internal and external displacement. The clashes are ongoing, in the capital Khartoum, and in major cities around the country, with once again, Darfur being particularly hit.
The area of Downtown Khartoum and Khartoum 2, which are known to be the artistic neighborhood of the capital, have been heavily destroyed by airstrikes and shootings. Numerous artists spent the first few days of the war being trapped in those incredibly dangerous places, which used to be full of art galleries and music, painting studios. As most of them have been able to reach relatively safer areas, they are now faced with the following issue: the complete lack of possibility to make any money. Even if they could access their art spaces and produce, who can afford to buy ? Numerous artists used their art as the main source of revenues for their families." (Source)
---
The "Sponsor a Sudanese Artist" campaign is a grassroots initiative aimed at supporting and empowering talented artists from Sudan in the midst of political and economic turmoil. This campaign recognizes the immense artistic potential present in Sudan and seeks to support artists work and survival along with offering an avenue where they can continue to develop their work, skills, and connect them with global networks.
With the help of Roxane Trioux (Archeologist, Khartoum), Haneen Elsadig Mustafa (Social Media Manager, Khartoum), Rayan Elhaj (Designer, Khartoum), the three curators Rahiem Shadad (Downtown Gallery, Khartoum), Azza Satti (Nairobi), and Mahasin Ismail (Khartoum) managed to collect data on the artists' situation and their financial needs to provide insights through which you can choose an artist and aid them for the months to come.
This campaign calls upon the global community, supporters of cultural diversity and those deeply concerned about the situation in Sudan. By sponsoring an artist, their contribution will directly impact the lives and careers of talented individuals, helping them through financial barriers and access resources necessary for their artistic pursuits during this challenging time.
Through the campaign's website, potential sponsors can explore the profiles and portfolios of a diverse range of Sudanese artists. Each artist's background, artistic style, and goals are showcased to give sponsors a deeper understanding of their talents and aspirations. Sponsors can then choose an artist whose work resonates with them and make a financial contribution towards their artistic journey.
How to Participate: To support this campaign, individuals and organizations can visit the official website which provides information on the artists, their work, and sponsorship opportunities. Donors can contribute financially on the Go Fund Me page which distributes finances according to needs, donors can also chose to support an artist of their choice or collaborate on other projects which aim to showcase the work of these Sudanese artists.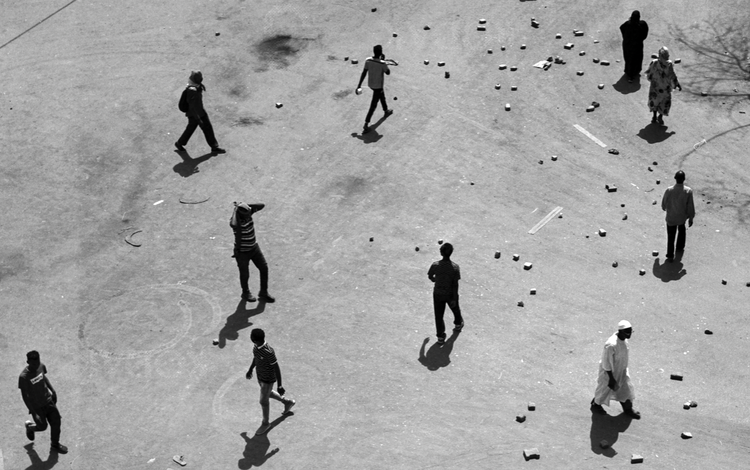 Khartoum & the state of mind. What now? where to? what's next? how? few of the many tough questions in any Sudanese mind. Photo by @ala.kheir