Artist Spotlight: Mithkal Alzghair
For the month of May, we proudly present our Artist of the Month: dancer and choreographer Mithkal Alzghair. Read below to get to know this amazing Syrian artist, how he explores the body as a concept of humanity in his artistic practice, and the projects he is involved in now. Part of the text is extracted from interviews with Mithkal carried out by Katarzyna Grabska and Sara Christophersen in January-March 2021 and May 2022.

Surrounded by talented painters in the family, Mithkal was introduced to art from an early age. But Mithkal took a different artistic turn than his family members. At the age of 12, Mithkal was introduced to theatre and quickly decided that it was this he wanted to study and do for a living. In the end, it was dancing that became his passion and life work.
Dance is for Mithkal an expression of freedom - a place where he feels he can open up and create space. 'It is through the practice that I can feel', he says. 'It has more meaning to me, I can develop it and put it in frame'.
Mithkal began to study ballet and modern dance at the Higher Institute for Dramatic Arts in Damascus, Syria in 2001. At that time, the dance programme was quite new, with Mithkal belonging to the third generation of students. The classes consisted mostly of the traditional forms and techniques. There were a few traditional dance groups but hardly any performances of contemporary dance. After graduating in 2006, he sought to explore dance even more and beyond its classical and traditional forms. He wanted to travel abroad to see the world and art in its many forms, as well as to experiment and develop himself as a dancer and choreographer. He travelled to France to start on a master's degree in choreography in Montpellier and loved it. He was able to develop himself as an artist, not to produce any finished product, but to just have a free space to research, experiment and ask questions.

By the time Mithkal finished his degree, war had broken out in Syria. Unable to return to his country of origin, he obtained the status as a refugee in France. He then moved to Paris to find work, and put simply, to just survive in this new and extremely difficult reality he found himself in. Every day he felt the consequences of the war. Being outside of Syria, he felt a necessity to do something. To use his body and artistic practice to display and inform people about what was happening. The result was the solo project Displacement, in which the trajectories of exile and forced migration, that now constituted a part of his identity, are manifested on stage. In the second part of the performance, three male dancers, each with their own individuality, express through movement the lived experiment of displacement. They have similar outfits, but the colours of their t-shirts and shoes are different. Mithkal shares that this was one way of showing the audience that refugees are not just a large population, but persons, in which every person has its own individuality. The message is that we should not forget the individual in it all.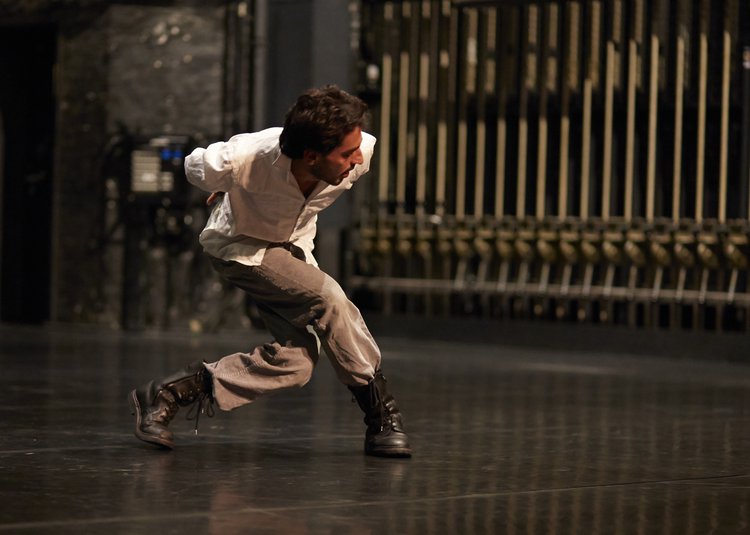 Mithkal performing Displacement (2016). Copy right: Laura Giesdorf
As time goes by, Mithkal finds himself in new realities, but he holds on to his interrogation of society, all its problems and violence, as well as a general search for humanity. He continues working on his own projects but is also collaborating with other artists and performers.
This year, Mithkal actually found his way back to his childhood dream: the theatre stage. During May, he has been performing in the play Kliniken by Lars Norén at the Odéon - Théâtre de l'Europe in Paris. Kliniken, the seminal work of Swedish playwright Lars Norén, is a picture of flawed but endearing humanity, set in what could be a psychiatric hospital or health centre. The people who live there are anorexic, schizophrenic, depressed. They have a dysfunctional relationship with 'normality', and so society prefers to hide them away behind four walls. Directed by Julie Duclos, this contemporary vignette has been tailored to the actors and the unique space-time of the theatre.
When asked about his experience with the theatre play, Mithkal says the character he was asked to play immediately interested him. 'I felt it was a really strong text. I liked the character they proposed to me. The character is an immigrant. He doesn't have papers and comes from a country where there is war. So I felt like I knew this person and how he feels in this situation. I felt a continuity for me. With dance I have something to say; I have a mission to present something. Here, with this proposition, I felt like I also have a necessity to go on stage and present this person and to tell his story'.
See the teaser of the play here. Their last performance, unfortunately, was last Thursday in Paris, but the play will continue to run in other cities next year.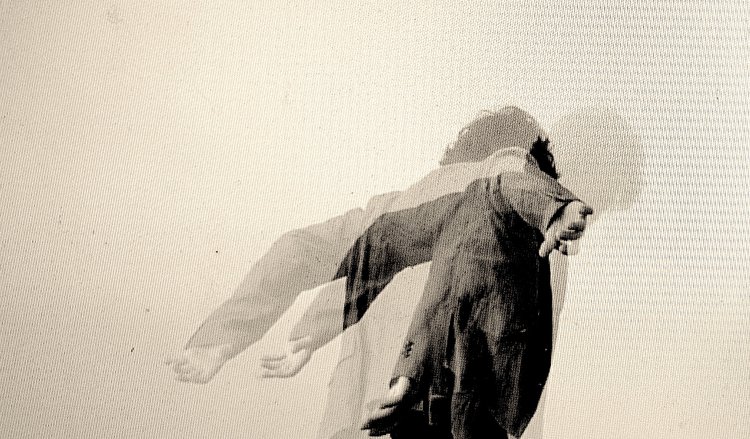 Clamours (2022)
Mithkal is also having a new solo performance called Clamors.
Clamors is a solo, a presentation of the human. I am this solo, this solo is me, it is a self, a self that is part of a whole and that has been constructed by its journeys in a world where reality, fragmentation and absurdity are imposed and where the human body is the diary of a life full of questions'.
Clamors is the attempt of creating a portrait of man in our world today, his connection to dominant powers and laws which, in some situations govern, control and determine his fate. This may be the image of man who submits to reality and resorts to silence, but it may also be the need to proclaim, to find words, voices, resonating actions in order to achieve a chosen future. In this project, Mithkal focuses on the kind of transition in which individuals move from one reality to another. People face precariousness, threat, domestication and submission to an absurd way of living and therefore endure an imposed reality. From this starting point, and through physicality as a means of materialisation and revelation, Mithkal's research and questions echo the confrontation between man and the supervisory authorities, imposing constraints, prohibitions, limitations and obligations on the body. Experimenting with steps and movements in continuous rhythmic structures, manipulating the rhythm or letting himself be manipulated by it, Mithkal is able to create multiple meanings or different attitudes.
'I started to physically search about this subject after feeling that I needed something else. I wanted to give this image of the world by creating a specific type of scenography. The dance floor has an effect like a mirror, which I cut in several pieces, but when I gather the pieces, it becomes the map of the world. So, it is also a scenography to this that gives it another layer of dramaturgy or what I'm trying to talk about. I play with continuing and rising repetition in movements, a process of continual change, to question this body at the very limit of its endurance. My work focuses on the body, in this instant of emotional climax, caught up in unconsciousness, repetition and trance. I play with the repetition of the moment in an unusual place of perpetuity, I am extending it, seeking to transform it, to metamorphose it. I am physically researching the states the body goes through when an event takes place, the state of consciousness and unconsciousness, the state of making a choice in extreme conditions, the state of growing resistance in order to overcome obstacles'.
From 8-10 June 2022, the performance can be seen at the Kampnagel Live Art Festival in Hamburg, Germany. To see the premiere of Clamors, find tickets here. After the dance festival in Hamburg, Mithkal will present the piece at a festival in Paris in September.
Check out Mithkal's website for updates on his upcoming works.