Artist Spotlight: Hangama Amiri
Hangama Amiri (b. 1989, Kabul, Afghanistan) is an artist whose multi-disciplinary practice tells the story of her own personal experiences from living in Afghanistan, Canada and the US, as well as stories of women in her family and community in Afghanistan.
From 29.04.22 to 06.11.22, Amiri has a solo exhibition at David B. Smith Gallery, Denver, Colorado.
Working across textile, painting and even creating her own emoji in collaboration with UNHCR for #worldrefugeeday, Amiri's practice is inspired and informed by the exploration of memory and archival research. She cleverly and creatively challenges the viewer's preconceived ideas of social and commercial spaces to highlight disparities between perception and reality of lived experiences. With textile works of fried chicken that seems to come off the material and onto the plate and the creation of a beauty parlour completely out of fabric and paint, Amiri is able to transform any space she enters into a world of her own.
Amiri has kindly consigned two incredible works for the INSPIRE Art Award – read below an interview carried out by Katarzyna Grabska and Katya Conrad to hear about her artistic process, previous projects and advice for emerging artists.
Katarzyna Grabska: Hangama, please tell us more about the works you have consigned for the INSPIRE Art Award. It would be wonderful to hear your process of creating them.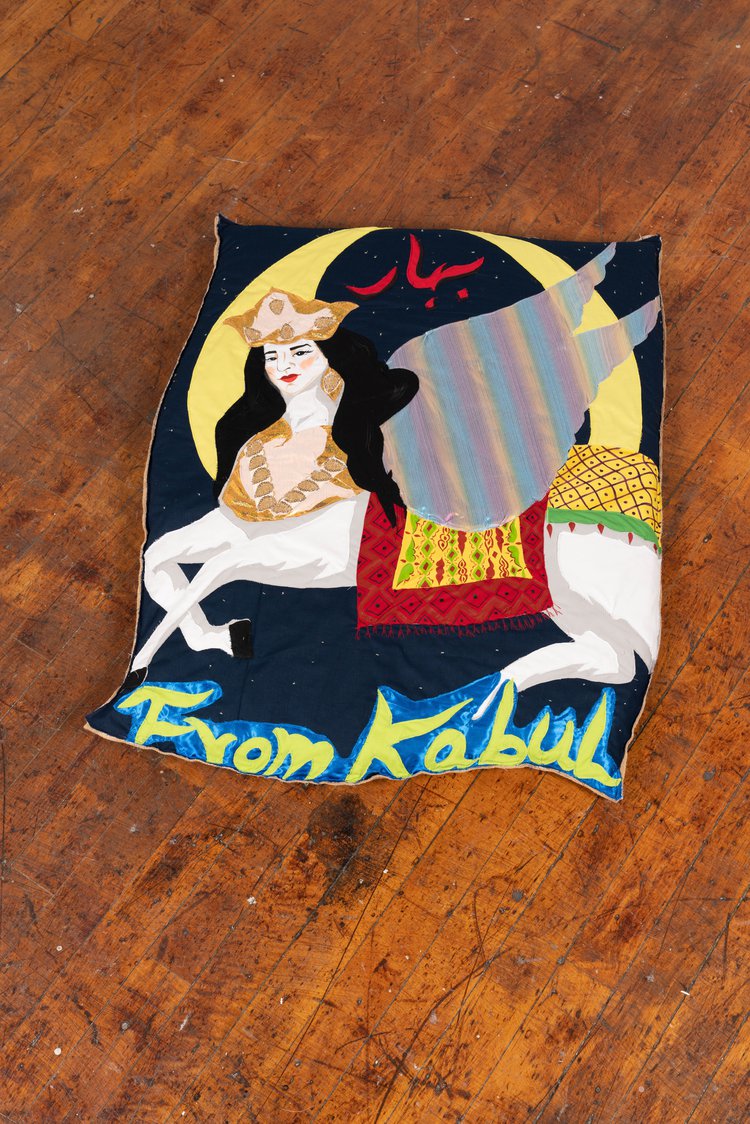 Bahar From Kabul (Ricesack #1), 2021 | Hangama Amiri
Hangama Amiri: These two pieces specifically are from my exhibition at Albertz Banda, Wandering Amidst the Colours. It was informed by my experiences of finding Afghan diaspora communities within New York City. By doing that at the start of 2020, I started to visit these communities and observe the objects, images and visual connections in these communities specifically. I would go to the supermarkets and find myself being familiar with the packages of food and products that I saw when I was growing up. I would collect those images and objects, bringing them back to my studio to redraw that experience again. The rice sacks were the packages of rice I saw growing up. These rice sacks always had beautiful advertisements. I wanted to imitate that visual language, but in a way also twist the story. Bahar is a female name from Kabul, as if she is from Kabul. So I am tricking, directing my viewers that this is not a typical rice sack, but it is a rice sack that comes from this specific context. I wanted to play around with the language and how language could make our distance closer. It's not only the product but the typography or visual imagery that can give you those stories of life back home. When I ate the rice, it made me closer to my home. That's why there's this theme or language around the idea of 'being back home'.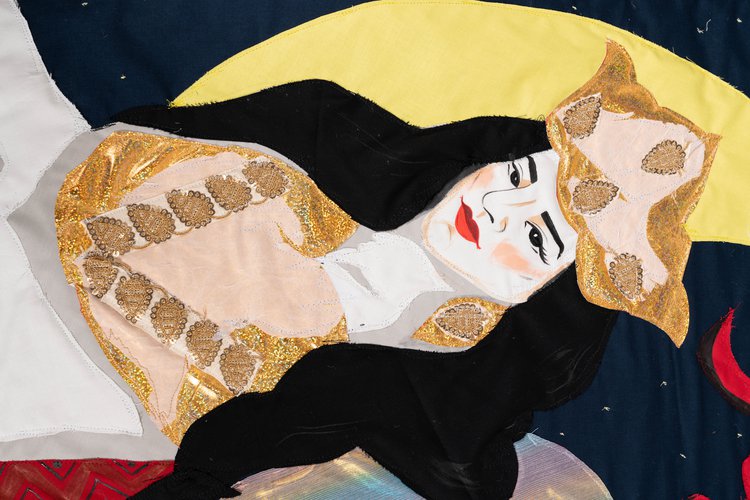 Bahar, From Kabul (Rice Sack #1), 2021, Detail view
The female figure, with the half body of the horse and the half body of a female wearing beautiful jewelries is an Arabic motif called Buraq. This specific symbol and iconic figure are usually used in Islamic books as if they were angels, neutral gender angels that were neither female nor male. This was the angel that would bring the good news for the Prophet Muhammad (PBUH). I wanted to bring this gender-neutral female figure from Afghanistan, using this religious sort of iconography as well to play with the visuals. In Afghanistan, you see this symbol a lot painted on buses and trucks, even inside the restaurants. It is a very well-recognised way of representing something about the female. I have a lot of visual memory of this image. Again, I am bringing a visual vocabulary from back home in this rice sack to give more context to it.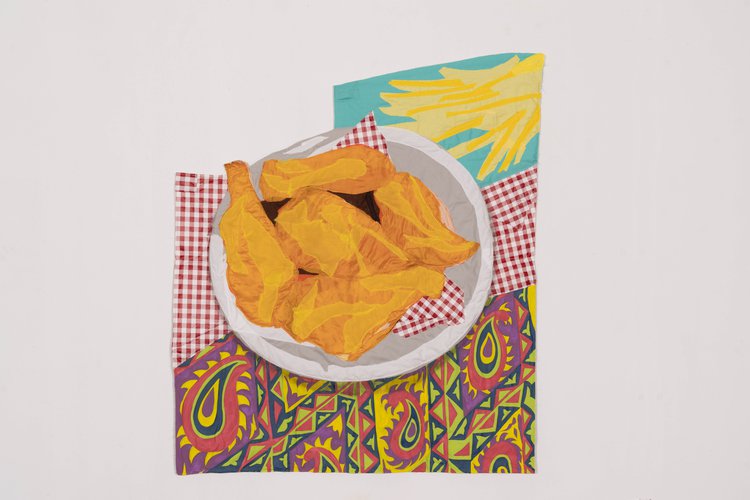 Still-Life with Fried Chicken and Fries, 2021 | Hangama Amiri | Chiffon, muslin, cotton, polyester, silk, acrylic paint, and found fabric. | 114.30 × 99.06 cm (45 × 39 in)
The other dimension that I worked on this series was the 'still life', something that came new to my work, and I am still continuing to make. Still lives tell fascinating stories. The idea of how objects and food could tell our stories is very intriguing. For me, my experiences of being connected with my own country and culture, food is the main thing. The smell brings so many memories. I would go around and find these specific food dishes, or even fusion food dishes at restaurants that have Afghan or Persian served alongside American food. If you see in the background, you have these textiles I was familiar with from my childhood. There's a traditional Persian rug that I painted. I wanted to connect this diasporic language to it. These two pieces definitely reflect the ideas of familiarity and ideas of belonging that I found while living in the US during the pandemic. The main concept was the question of how you define home when you live so far from it. The meaning changes and shifts because it is not so physical anymore, but much more about feelings and sensorial experiences.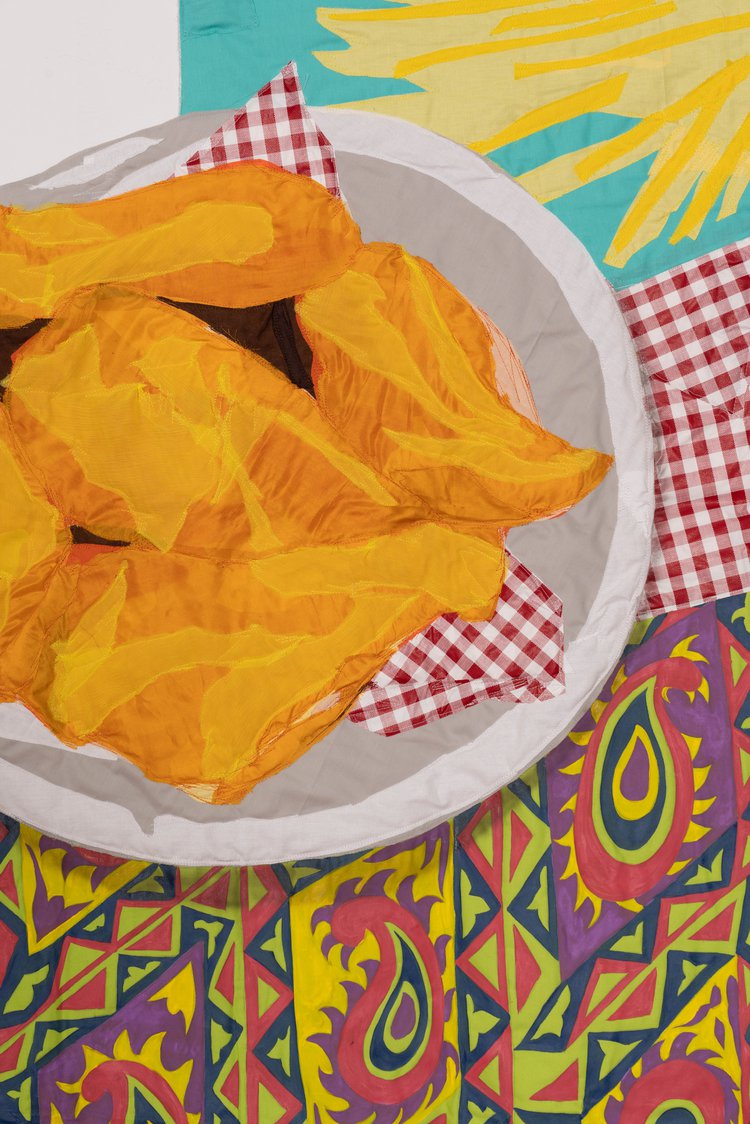 Still-Life with Fried Chicken and Fries, 2021 |Hangama Amiri|Chiffon, muslin, cotton, polyester, silk, acrylic paint, and found fabric. | 114.30 × 99.06 cm (45 × 39 in)
Katya Conrad: It's such a multi-sensory work too. It really does make the viewer feel hungry. Experiences of the work are multi-layered, the visual, evoking smells and tastes of food, but also the beauty and intellectual aspect of it evoked by the story that you narrate within it.
HA: I made the whole room about this very feeling, the food, the rice sacks, with the title of a shop. Whenever people would enter, they would say, 'Oh, I'm getting hungry!'. They would express these feelings and I would be really happy. If textile makes you hungry, it means that the work did something to the viewer and it means a lot for the artists to be honest. When I was working on this, even the title of the show references this idea of wandering amidst the colours, there were so many colours to see, touch and even smell. Food has certain colours of memory too. These are very autobiographical approaches of getting closer to my home.
KC: What advice would you give to emerging artists or creatives?
HA: When I was doing my undergraduate degree at NSCAD University in Halifax, NS, I was very good at drawing, especially at observational drawing. I definitely had the skills to show off. There was one project that we had where I got really stuck imagining how I would even start. There was a huge pressure suddenly in my head that I just could not express. The teacher saw my struggle and he said, 'You know what, Hangama? Sometimes when I get stuck, I just go shopping. I just take a mini break and go shopping. Do you like shopping?'. I said, 'I love shopping!' and he said I could come back that day or even the next. There was no expectation.
That advice helped me a lot. I kept thinking, even in my studio days, when I feel something is really stuck or I feel that something is not working and I'm pressuring it, I need to step away from it. I need to take a moment. I just go for a little walk that will distract me and do not come to the studio for a day or so. That really helps me. When I come back, I'm coming back much more confident and with a much more grounded mindset. That is the only advice I would say. I guess it applies to anybody, not just artists. When you feel stuck in those moments, just take a walk, just to enjoy yourself again and then come back whenever you can, and you will see the situation from a fresh perspective.
Another common piece of advice is to learn to accept failure, accept rejections. Don't be afraid of rejection. We live in a world where everything is about working towards achieving success, and this is the only thing to focus on. Something I have learned, especially during the pandemic, is that it's important to slow down and say, 'No'. 'No' is a great thing sometimes.