Artist Spotlight: Cecilia G. Salinas
Next up in this month's Artist Spotlight is visual artist and social anthropologist Cecilia G. Salinas. Read below about how Cecilia blends anthropology with her artistic practice, her upcoming INSPIRE seminar, and her new exhibition.
When Cecilia was a little child, she already loved to draw and colour and she longed to learn more. However, her family had little financial resources and could not send her to drawing classes or other courses where she could develop her passion.
When she was 15-16 years old, Cecilia was enrolled in an art school in Buenos Aires while still going to high school. In 2001, she moved from Argentina all the way to Norway. She started studying literature and after a few detours, ended up in anthropology at the University of Oslo, where she took a BA, MA, PhD and a Postdoc in anthropology. However, she never gave up her artistic practice while pursuing her academic career.
For many years, Cecilia was a student of the Norwegian painter, Jan Valentin Sæther. "I owe him a lot of the understandings I carry with me from art into anthropology. He taught me a method, which became important to me and which resonated in anthropological perspectives, which promote the need to slow down in relation to analysis, to think thoroughly, and postpone conceptualisations."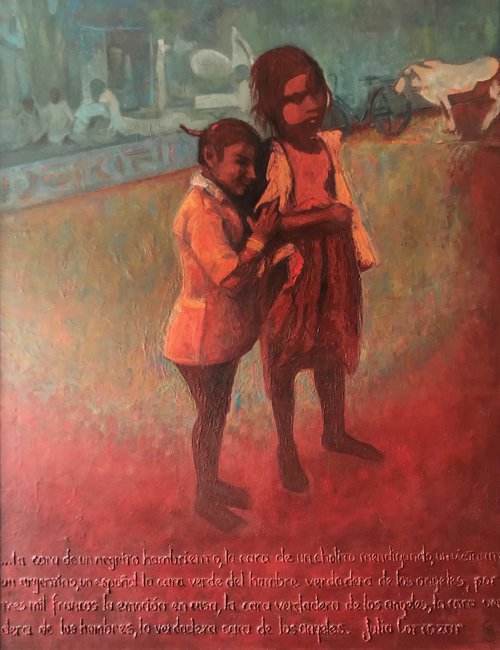 Cecilia's artistic inspiration has many layers of emotions and intellect. She says that the inspiration is coming from meta conversations between her inner world and the external world she encounters under differences circumstances. Grown up under difficult conditions, with an everyday life marked by racism, discrimination, violence, bullying in a military dictatorship and a country marked by the legacy of colonialism, Cecilia believes that she has adjusted her moral compass in direction to a political awareness of the mechanisms behind inequality, oppression, maintenance of social classes, of gender differences, of differences in function, various forms of racism, and so on.
"In a sense, we are our experiences and our stories, so I think that this political awareness is a source of inspiration, both artistically and anthropologically speaking," Cecilia says.
Because of her background, there are certain topics that are recurrent in Cecilia's work, which are related to her own painful experiences on the one hand, and to the suffering, injustice, abuse, intolerance, violence, war, racism and displacement she observes in the world on the other. To express these topics, Cecilia works in different and complex ways, both in visceral and intellectual ways. For her, these two are inseparable.
"There is anthropology in my artistic practice and artistic approaches in my anthropology. My artistic practice spring from the contact zone between my inner and outer world. The different types of fieldwork I have carried out made me reflect a lot about my experiences from my childhood and adolescence. In my artistic practice, I try to express that I do not have words to express to begin with. I search for an expression that does not close, but opens up. To create images with colours or with words, as poetry, gives me this possibility."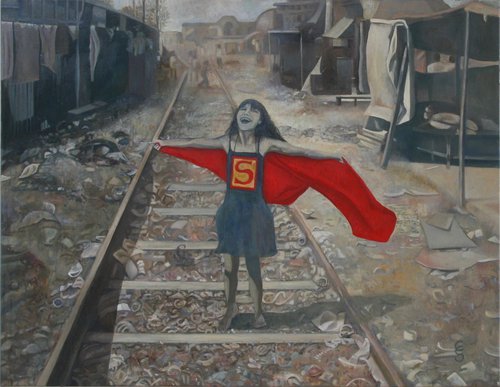 Cecilia's previous exhibition 'SÅR' consists of oil and acryl paintings on canvas and poems she wrote herself. The method of the paintings is Sæther's method, 'seeing without an object', in which the apprentice learns to construct the image they wish to produce by a mapping of relations between light and shadow. The guiding question of the work is then not what it is, but how it is. It took Cecilia 15 years to create this series. During this time, she discovered that what she was doing was exploring the topic of trauma. Many of the paintings are related to stories from her fieldwork, to texts she read about trauma and healing. The poems in modeling pasted in the paintings, which are both her own poems and from poets that inspired her, give the paintings a special texture.
"I search for a language to express the causes of physical-spiritual wounds, the negative effects of them on the subject, as well as try to show the significance of a creative expression or practice for healing".
The purpose of 'SÅR' was to create a space for reflection on an individual and collective level and contribute to the public conversation about care policy for children. She explored the meaning of art in a healing process and what language we use to denote different types of wounds and their effect. Language creates the world. Thus, the concept of trauma, according to Cecilia, can be unfortunate sometimes because it can create distance when what we need is closeness and care.
"We need a form of recognition that does not turn us into helpless victims, but that 'empowers' us. As a noun, 'Sår' means 'injury' or 'mental pain'. That is, a wound on the body of either physical or mental nature. But 'Sår' in Norwegian is also a verb which translates 'to plant a seed' in English. It is these two meanings of the term 'Sår'- 'wound' and 'to sow' - that embrace what inspires me and what is the purpose of this project. Different people have different wounds. Some of us have the deep wounds that are described as trauma – they can be many wounds of different nature, inflicted over time. We carry them with us as best as we can. Our wounds can become a 'carrion', and make us sick, but they can also be a 'fertilizer' that provides nourishment."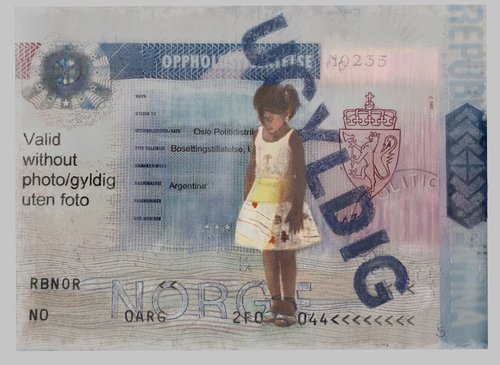 Cecilia's last series 'ARTivisme' was created far more quickly than 'SÅR'. It consists of 15 digital drawings and 15 texts that Cecilia created in parallell to ethnographic research she conducted in 2021. Cecilia's response was creative, born out of an emotional need. During the fieldwork, the participants would narrate vividly painful episodes from their childhood and adolescence, stories of racism, discrimination, unbelonging, loneliness, incomprehension, violence, abuse and neglect.
Several of the drawings merged several stories, and sometimes she discovered which stories the given drawing was gestalting. It was towards the end of the fieldwork that she understood that the drawings were part of the research method and not only a personal tool of recovery. She then decided to work with them more systematically. When the drawings were ready, she started working with the literary texts accompanying the images.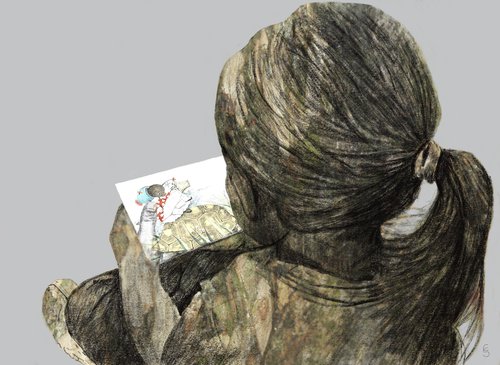 The conversations and interviews with the research participants became the point of departure to create short literary texts. At the end, each character was composed by several stories, statements, the posts of various research participants, in addition to what she had learned in newspapers, podcasts, or seminars to understand the research participants' social engagement. In choosing which story she would focus on, she decided to give priority to the stories between the lines, those which were not that explicit.
"ARTIvisme carries with it a different complexity than SÅR' in that it springs from an anthropological research project. It has more purposes than SÅR, it is much more related to anthropological methodology. But both SÅR and ARTIvisme are alike in that they are deeply personal series and are related to my political and societal involvement."
On Wednesday May 11, we are very lucky to have Cecilia as our speaker on our INSPIRE seminar. This time the seminar will be hybrid. If you are in Oslo (Norway), you are welcome to join us at PRIO (Hausmanns gate 3). If not, you can join the seminar online on Teams. For more details of the event and how to sign up, click here. For Facebook-event, click here.